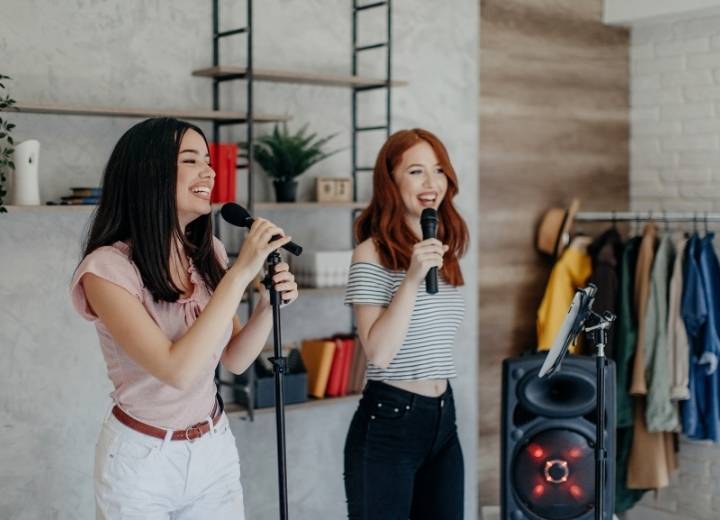 Singing Karaoke via Youtube is increasingly popular. All you need is an intelligent device connected to the internet that you can experience all the songs.
You do not have to pay a variety of fees for this entertainment. So, how to set up Karaoke at home using Youtube?
We have two ways for you to choose to set up Karaoke at home using Youtube:
Set up Karaoke using Youtube and Karaoke machine
DIY Karaoke setup using Youtube
Follow the next shares for clear step-by-step instructions!
How To Set Up Karaoke Using Youtube and Karaoke Machine?
You can set up Karaoke at home using Youtube with a karaoke machine via three simple steps:
Step 1: Connect the karaoke player to the monitor
Step 2: Connect the microphone to the Karaoke player
Step 3: Install the song
The karaoke machine is one of the familiar devices. It is a great support tool to create a quick connection when you want to sing Karaoke on Youtube. The steps to connect Karaoke at home with Youtube will be much simpler.
Equipment required
Smart TV, laptop, smartphone (with an internet connection)

Micro

Karaoke machine

Connection cable

Speakers
Follow the steps below to set up Karaoke using karaoke machines and Youtube.
Step 1: Connect the Karaoke Player to the Monitor
First, you need to connect the karaoke player to your TV screen. Intelligent TVs need a pre-existing internet connection to access Youtube.
Connecting the locomotive and monitor is very simple. You only need to use the RCA jack to make connections. There are plugs on both TVs and karaoke machines with 3 colors respectively to 3 jacks of RCA. You need to plug in the right color, and the process's over. You can find the jacks on the back of a TV or karaoke machine.
Step 2: Connect Microphone to Karaoke Player
Karaoke machines often have microphones attached. If you use a wired mic, then plug the mic's jack into the karaoke machine. In contrast to wireless mics, you can connect Bluetooth.
The process of connecting the mic to the karaoke machine is quite simple. You need to double-check the connection and make sure it's stable.
Step 3: Install Songs
Next, turn on the TV screen and use the remote to open the settings and search for songs on Youtube. Since the TV has an internet connection, you can sing any song.
You can adjust the sound system on the karaoke machine for better sound quality. The loudness of the mic is also easily adjusted through this gramophone.
Karaoke machines often have speakers attached, so the connections between them will be displayed automatically. The wiring between the speaker and the karaoke machine has been working since the installation. If it is a wireless connection, it will automatically connect via Bluetooth.
If you use a laptop or tablet to connect to the karaoke machine, you can enlarge the screen by touching the personal device to the TV. An HDMI cable is a great connection tool in this case.
If your TV is brilliant, you can connect it directly through the Youtube player. It is playable on another device thanks to the support between Youtube and Bluetooth.
How To Set Up Karaoke DIY At Home Using Youtube?
If you don't have a karaoke machine to make a simple connection, we will suggest an effective manual way.
Step 1: Connect the microphone to the mixer
Step 2: Connect the speaker to the mixer
Step 3: Connect the mixer to audio and video devices
Step 4: Install the song
A lot of homes won't have a karaoke machine, but our DIY guide will help. Although the method will be a bit complicated compared to connecting a karaoke machine, this is an excellent way to connect.
Equipment required
Micro

Mixer

Speakers

Smart TV, tablet, laptop, smartphone (with an internet connection)

Connection cable
Follow the step-by-step instructions below:
Step 1: Connect the Microphone to the Mixer
First, connect your microphone to the mixer and make sure it works properly. There are two main types of microphones: wireless pro microphones and wired microphones.
With wired microphones, plug the XLR cable into the mixer's XLR jack. Most mixers have 2 jacks, the XLR and TS channels. You can select the appropriate channel to connect the microphone.
If your microphone is a wireless microphone, you can make the connection by Bluetooth or wifi. These connections are pretty simple. You need to start the device and wait for them to confirm automatically.
Step 2: Connect Speakers to Mixer
Next, to amplify the sound, we need to connect the speaker to the mixer. Speakers will also have two types, wireless speakers and wired speakers.
With wired speakers, you'll still be using an XLR cable. Plug the jack into the XLR channel on the mixer to complete the connection.
With wireless speakers, we connect by Bluetooth or wifi. Wireless speakers make connecting simpler and less hassle-free. You don't need to worry about the jack position or the stability of the wire.
Step 3: Connect the Mixer to Audio and Video Devices
Your audio and video devices can be smart TVs, tablets or laptops, smartphones. There are two main ways to connect: via Bluetooth or cable connection.
Connecting via Bluetooth is quite simple. You necessitate to turn on Bluetooth on both devices and go to the settings of the audio and video devices to confirm the connection. This type of connection saves a lot of time and effort.
If you are connecting using a connection cable, use the RCA or USB jack. Both types of these jacks have stable transmission and appear on audio and video devices.
Suppose you connect the mixer to a laptop or tablet but want to enlarge the image more. You may combine your laptop or tablet with your TV via an HDMI cable.
Step 4: Install Songs
After completing the connection between the devices, you can open the audio and video device screen. Then, you go to Youtube and find the song. After finding your favorite song, click select and start your entertainment.
With only 4 simple steps to connect, you can set up Karaoke at home with Youtube. I'm sure you'll have a great experience at no extra cost.
Some Tips To Help You Set Up Karaoke At Home With Youtube 
To sing Karaoke comfortably at home with Youtube, you don't just have to follow the steps to connect. You need to pay attention to the internet connection, microphone, speaker, mixer, and karaoke machine.
Only when these devices work stably will you have a perfect and fun entertainment session.
#1. Use a Network Connection With Stable Transmission
The Internet is the key to using Youtube. If there is no network connection or the connection is unstable, your karaoke setup probably won't work. Before performing the setup steps, you should make sure that your home internet router is working correctly. You can also prepare a backup plan.
If the Bluetooth connection does not work, you can also use the wifi connection to continue.
#2. Good Microphone Pair
Many people think that just one microphone is enough. But they thought wrong. A pair of microphones for two people singing is more interesting than one person singing alone.
We recommend using wireless mics, it doesn't have any cumbersome connections here. You can quickly connect them to a karaoke machine or mixer.
The remarkable thing is that you can freely move and perform while singing Karaoke. You can choose between ultra-high-frequency or very high-frequency microphones. Although the price is a bit costly, it will give you the best voice.
#3. Good Speakers
Speakers are the key to sound output in this karaoke setup. Many people do not have suitable karaoke speakers, so they use TV speakers. It's entirely possible, but it's not too good.
TV speakers have many limitations and are not suitable for operation at high power or loud sound. You can explore and choose speakers with wireless connectivity.
You can buy a set of speakers for your family specifically for a Karaoke setup. If you feel they are too expensive, the PA karaoke speaker is also a good choice. It's pretty good for live sound, but you have to turn the volume down.
#4. Mixing Equipment or Karaoke Machine
Whether it's a mixer or a Karaoke machine, it's in your favor if they're smart devices. At a high level of modernization, they will provide wireless connections. You don't need to worry about missing a jack or not knowing how to plug it in.
When these two devices work well, it also brings a faster connection to your home karaoke setup.
Conclusion
Setting up Karaoke at home with Youtube is an effective solution. You will not have to pay as much as when renting a karaoke room outside. For every karaoke song, you can search on Youtube if you have an internet connection.
With our detailed instructions, you can follow how to set up Karaoke with Youtube. Thanks for following this post!