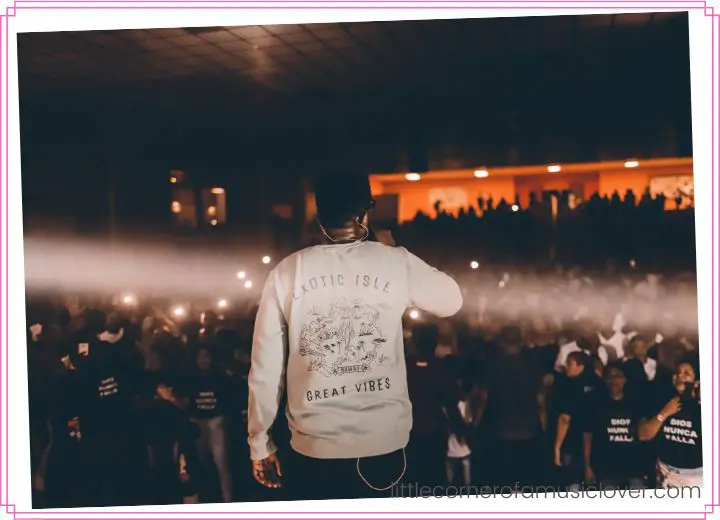 Looking for the best Big Sean songs? Look no further! This list features the top tracks that have solidified his place in the music industry.
1. Sacrifices
Big Sean's songs often reflect his life story and the struggles that he has experienced on his journey.
He is a testament to the power of resilience, with many of his songs reflecting an attitude of making sacrifices to reach success.
His song "Sacrifices" is no exception, as he expounds on the idea that when it comes to achieving greatness, one must be willing to go through hardship in order to get there.
2. All Your Fault
"All Your Fault" by Big Sean is one of his greatest hits.
It's an upbeat hip-hop track that speaks about Sean's newfound success in the music industry, how far he's come since the early days, and taking responsibility for mistakes made along the way.
The beat is catchy with a cool synth sound while Sean spits some killer bars about rising above his haters and staying true to himself.
3. Voices In My Head/Stick To The Plan
"Voices In My Head/Stick To The Plan" by Big Sean is an incredible song that speaks about how the rapper struggles with making important decisions and chasing his goals in life.
He stresses the importance of staying focused on his dreams despite any distractions or discouragement he may face from outside forces.
4. Bounce Back
"Bounce Back" by Big Sean is one of the greatest hip-hop songs ever made.
It's an upbeat, empowering anthem that speaks to the resilience of all people facing hardship in their lives.
With a booming beat and irresistible hooks, Big Sean celebrates staying motivated and never giving up.
The song displays Big Sean's dynamic lyrical ability, showing off his technical wordplay while also conveying a powerful message of perseverance for its listeners.
5. Dance (A$) Remix (ft. Nicki Minaj)
"Dance (A$) Remix (ft. Nicki Minaj) by Big Sean is one of his best songs to date.
Featuring the iconic rap legend Nicki Minaj, this track effortlessly combines lyrical prowess with a mellow beat that creates a solid hip-hop anthem.
Big Sean's sharp flow and infectious delivery over the bouncy production stand out as he raps about using dance to express himself, while Nicki Minaj brings her signature style and bolsters the track with her braggadocious bars.
The song speaks to an entire generation of people who want to make their mark in life and use movement as an avenue for self-expression.
6. I Do It
"I Do It" by Big Sean is one of the rapper's most popular songs. On the track, he encourages listeners to never give up and chase their dreams.
Featuring fellow Detroit superstar, Lil Wayne, the song has a powerful energy that will keep you going no matter what obstacles life throws at you.
Big Sean raps about his rise to success and how he learned from every mistake along the way.
7. Beware (ft. Jhene Aiko)
"Beware" by Big Sean ft. Jhene Aiko is an upbeat and infectious track that captures the spirit of summer.
The song begins with a light, catchy synth-line that sets the tone for the rest of the track.
Big Sean's smooth vocals pair perfectly with Jhene Aiko's airy refrain in the chorus, creating a buoyant and laid-back sound.
8. Wolves (ft. Post Malone)
"Wolves (ft. Post Malone) by Big Sean is a smooth, dark, and captivating rap song exploring the inner strength that comes with facing life's difficulties.
The song opens up with Big Sean singing in a whispery tone, setting an atmosphere of reflection and contemplation.
Then enters Post Malone's distinct vocal style to further contribute to the haunting ambiance of the track.
9. Jump Out the Window
"Jump Out the Window" by Big Sean is a memorable hip-hop track that centers around Sean expressing his feelings of being trapped and needing an escape from his current situation.
The somber, melodic instrumental provided by Key Wane perfectly compliments Big Sean's hard-hitting lyricism and delivery as he details his journey to finding true happiness.
This isn't your typical party song, but its raw emotion captures the thoughtfulness of Big Sean's musical style better than any other.
10. Intro
Big Sean's Intro is a popular track off his Hall of Fame album.
The song is about Big Sean reflecting on his past and experiences that have brought him to where he is today in the music industry and in life.
He talks about his family and friends who have encouraged him, as well as the hard work it took to get to where he is.
He also praises God for providing him with success and for blessing him with abilities like lyricism which has helped him reach this level.
Big Sean's lyrics are both introspective and celebratory, as he acknowledges his accomplishments while still staying humble.
11. Marvin & Chardonnay (ft. Kanye West & Roscoe Dash)
"Marvin & Chardonnay," by Big Sean featuring Kanye West and Roscoe Dash, is a classic feel-good hip-hop jam.
With its catchy chorus, soulful beat, playful lyrics, and unique blend of melodic rapping, the song has all the makings for a hit.
The track speaks to the joys of success and living your best life – Marvin being the protagonist's favorite beverage to sip on while celebrating his wins in life.
12. Moves
"Moves" by Big Sean is a classic hip-hop track released in 2020 and is an uplifting and empowering song.
The song's lyrics focus on the journey of success — one has to make moves, stay focused, work hard, and take risks to achieve greatness.
Through this message, Big Sean encourages listeners to take action rather than wait for luck or just wish things away.
13. Don't Tell Me You Love Me
"Don't Tell Me You Love Me" by Big Sean is a powerful statement on navigating relationships and the importance of keeping your guard up.
Taking a stance on not easily admitting love for someone you're unsure about, the song speaks to those who have a fear of getting hurt again in relationships.
Big Sean's rap verses that emphasize how important it is to be careful about one's feelings make this one of the best songs from the artist yet.
Fans can relate to its poignant message, love should never be thrown around lightly, but also shouldn't be hidden away forever either.
14. Living Single (ft. Chance the Rapper & Jeremih)
Living Single (ft. Chance the Rapper & Jeremih) by Big Sean is a light-hearted and upbeat track that speaks of the allure of the single life.
In it, Sean talks about his own decision to remain single and how that gives him greater freedom and autonomy in his life.
If you're looking for an enjoyable way to give voice to the joys and occasional loneliness, of flying solo, Living Single is definitely your jam.
15. Guap
"Guap" by Big Sean is a track about personal success and financial freedom.
The song finds Big Sean expressing his gratitude for the blessings his newly achieved affluence has brought into his life.
He makes sure to mention that this newfound wealth isn't just a product of luck; it's also the result of hard work and dedication.
He raps about how he's been able to provide not only for himself but for others in need as well.
16. My Last
My Last by Big Sean is an ode to his hometown of Detroit, Michigan, and a tribute to all the people who have helped him get to where he is today.
The track speaks to being grateful for what you have and celebrates the success that comes through hard work.
The beat is overwhelmingly uplifting and inspiring, with Big Sean rapping about how everything he has now was earned through his own hard work and dedication.
17. One Man Can Change the World (ft. Kanye West & John Legend)
"One Man Can Change the World" by Big Sean is an inspirational hip hop song that encourages listeners to never give up on achieving their dreams.
The track references historical figures like Martin Luther King Jr., and emphasizes the idea that even a single person can make a difference in the world if they are willing to persist despite any difficult obstacles.
Musically, "One Man Can Change the World" features an uplifting beat and soulful organ chords, complemented by Big Sean's passionate delivery of lyrics about perseverance and hard work.
This powerful song serves as motivation for anyone seeking success, offering hope and encouragement that one day they too can create positive change.
18. I Know (ft. Jhene Aiko)
"I Know" by Big Sean ft. Jhene Aiko is a heartfelt ode to being happy and in love.
The song speaks of the two singers appreciating each other, understanding each other's sadness and its origin, coming out of a dark place together, and finding comfort when life gets too tough or complicated.
Big Sean's raps in the chorus are replete with his signature endearing wordplay, lighthearted rhymes, and honest reflections on their relationship.
Meanwhile, Jhene's passionate vocals call to mind her sweet demeanor as she perfectly captures the empathetic spirit of the song.
19. Lithuania (ft. Travis Scott)
"Lithuania (ft. Travis Scott) by Big Sean is an amazing track that combines lyrical excellence with a great beat to produce something truly captivating.
With lyrics that explore themes of ambition, wealth, and success this song tells the story of somebody who has worked hard for what they have achieved and is now focused on continuing to do better.
Featuring vocals from Travis Scott to add another layer of depth, this powerful track is one of Big Sean's best songs and certainly deserves its place in his discography.
20. High (ft. Wiz Khalifa & Chiddy Bang)
"High" by Big Sean featuring Wiz Khalifa and Chiddy Bang is a powerful and uplifting song about pushing yourself to success no matter what the odds are.
The chorus rings out with a message of resilience, singing "My mind stay on my grind, I'ma take it there/It's my time, mines gotta shine, I'ma make it happen this year."
21. No Favors (ft. Eminem)
"No Favors" by Big Sean ft. Eminem is a powerful rap song about taking responsibility for your own successes and pushing through any adversities you may face.
The track is filled with the refrain of determination over a booming beat, featuring Eminem's impressive lyricism to emphasize Big Sean's storytelling.
22. Supa Dupa
It's a high-energy song that captures Big Sean's versatility and unbeatable rhyme-spitting prowess. It's upbeat production and fiercely infectious hook make it catchy, pushing the track further into hit status.
The song is a confident statement of Big Sean's place in the rap game, boasting about the luxurious life he leads as well as his superior ability to craft some of the hottest rhymes in hip hop.
23. Higher
"Higher" by Big Sean is an uplifting track that encourages us to strive for greatness.
The song speaks on the struggles of everyday life and how the journey can be trying; however, instead of letting these obstacles define him, he chooses to embrace them and use them as motivation towards achieving his dreams.
24. Getcha Some
"Getcha Some" by Big Sean is a great hip-hop track with plenty of attitude.
The song tells a story about working hard to achieve success, no matter what comes in the way. With its catchy chorus and beats, Big Sean's lyrics encourage listeners to make their own paths and work hard for what they want.
The song further emphasizes the idea of being motivated and never giving up on your dreams even in the face of adversity.
It also speaks about staying humble while appreciating the things that have been achieved so far.
25. IDFWU
"IDFWU" by Big Sean is a song about letting go of someone with whom you had a sever relationship.
It's the perfect breakup anthem as it captures the feeling of heartbreak and frustration after someone has wronged you.
With lyrics like "Never thought that it'd come to this, so I'ma cut your name out my speech," Big Sean perfectly articulates what it feels like to say goodbye and move on.
26. What U Doin'
"What U Doin' by Big Sean is a soulful and powerful hip-hop song that speaks to its listeners about life's struggles.
The song expresses how life can be hard, but you must find your own way and blaze your own path despite this reality.
Big Sean uses his lyrics to send an uplifting and inspirational message, encouraging people to work hard and focus on their goals without giving up.
27. I Don't Fuck with You (ft. E-40)
"I Don't Fuck with You" by Big Sean, featuring E-40, is one of the rapper's most iconic songs.
The track was released in 2014 and featured on his album "Dark Sky Paradise," and its memorable chorus has since become an anthem among fans.
At first glance, the song appears to be about the end of a relationship but it goes so much deeper than that: it's also about moving on from bad memories and toxic people in life.
28. Blessings (ft. Drake and Kanye West)
"Blessings" by Big Sean featuring Drake and Kanye West is an upbeat anthem about counting one's blessings, rather than focusing on one's struggles.
The song focuses on the fact that in life, instead of concentrating on everything that goes wrong, it is important to take joy in the things that go right.
This catchy collaboration makes "Blessings" one of Big Sean's best songs, and its positive message serves as a reminder to us all to appreciate what we have and stay thankful for our blessings.
FAQs
What is Big Sean's biggest hit?
Big Sean's biggest hit is his single "I Don't Fuck with You," released in 2014.
The song was a massive success, making it to the top 10 on the Billboard Hot 100 and also charting on multiple digital download charts around the world.
The song was produced by Kanye West and DJ Mustard and featured E-40.
It quickly became an anthem for young people everywhere, resonating across clubs, radios, and streaming services alike.
With its catchy hook line and unique production style, "I Don't Fuck with You" remains one of Big Sean's most memorable singles to date.
Why is Big Sean famous?
Big Sean is an extremely successful rap artist who has achieved global fame since his career began in 2007.
His lyrical style and flow make him stand out from the crowd, and his hit single, "I Don't F**k with You," was a breakthrough for many fans around the world.
His success has been helped by several collaborations with fellow artists such as Rihanna, Ariana Grande, Kanye West, and Justin Bieber.
Big Sean's lyricism stands out with its crafty rhymes and creative flow that brings a unique sound to hip-hop music.
He has also earned two Grammy nominations for Best Rap Album in 2013 and 2015 for 'Hall of Fame' and 'Dark Sky Paradise' respectively.
The rapper's relatable lyrics about everyday struggles endear him to fans, making him one of the most famous rappers today.
How many number 1 albums does Big Sean have?
Big Sean has released four studio albums to date, and all have charted in the top 10 of the Billboard 200.
Of these, only one album: Dark Sky Paradise (2015) has earned a No.1 spot on the chart.
This makes Big Sean the proud owner of one No. 1 album, namely Dark Sky Paradise.
The other three albums are Finally Famous (2011), Hall of Fame (2013) and I Decided (2017), which respectively hit No. 3, No. 3, and No. 2 on the Billboard 200 list.
Has Big Sean gone platinum?
Big Sean has certainly gone platinum, having released several albums that have achieved the RIAA's official gold or platinum status.
His debut album 'Finally Famous' went gold in 2012, peaked at #3 on the US Billboard 200 chart and was certified platinum by the RIAA in May 2016.
He has since released five more albums, all of which have garnered huge success and critical acclaim – 'Hall of Fame', 'Dark Sky Paradise', 'Double or Nothing', and most recently 'Detroit 2'.
His latest album "Detroit 2" topped the US Billboard chart upon its September 2020 release, achieving double-platinum certification from the RIAA shortly after.
Big Sean continues to be one of music's most successful artists.
Why did Big Sean leave good?
Big Sean left Good Music due to creative differences stemming from his desire to expand his own individual brand beyond the umbrella of the label.
This move allowed him to pursue a more independent vision and hone in on production and collaborations that were entirely his own.
He was also looking for greater control over his own projects, as well as the opportunity to release music more frequently than before.
His solo career has flourished since then and he continues to have an impact on the hip-hop world with multiple successful albums and collaborations.