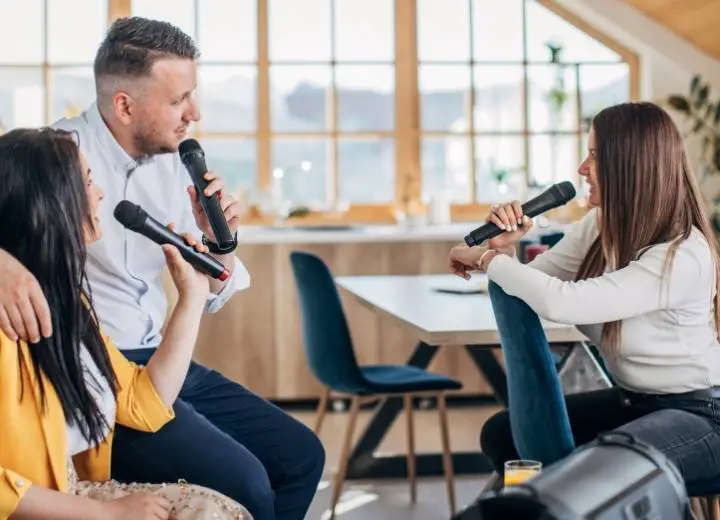 Karaoke is the favorite type of entertainment of many people. But some karaoke machines require users to buy songs to sing, and they may cost a great deal. You can wonder this question "How can I get karaoke songs for free?"
You can try the following ways to get free karaoke songs.
Sing or download free karaoke songs on YouTube
Install free karaoke apps
Take advantage of free karaoke software
Make the karaoke version for songs by yourself
Let's check out these methods together!
How Can I Get Karaoke Songs For Free?
Now we will move on to the details of each method to get karaoke songs for free. Each method has its pros and cons, so you can consider these aspects to choose a suitable one. 
#1. Sing or Download Free Karaoke Songs on YouTube
On YouTube, many Karaoke songs are free to access. You can sing online on YouTube or download free karaoke tracks from YouTube. Some channels on Youtube with a lot of good karaoke songs are Sing King, KaraFun Karaoke, or CC Karaoke. 
How to sing online on YouTube
To sing online on YouTube, you can follow the steps below.
Step 1:

Connect your karaoke machine to a smart TV, laptop, PC, or other smart device. You can connect using cables or BlueTooth.

Step 2:

Connect the microphones to your karaoke machine as instructed in the manual.

Step 3:

Open YouTube on your device, select the song you want to sing. You can search for the songs on the searching bar by typing the song's name then adding "karaoke". You can also consult the YouTube karaoke channels above for more choices. 
How to download free karaoke tracks from YouTube
YouTube is also the answer to the question: "Where can I get karaoke songs for free?". You can download karaoke songs for free from YouTube with downloader software. 
There are many downloader software that you can install and use for free. Here is how to download YouTube karaoke videos using 4K Video Downloader software. 
Step 1: Download and install the software 4K Video Downloader, then launch it.
Step 2:

Open  YouTube and find the karaoke song you want to download.

Step 3:

Open the video by clicking on it, then copy the URL of the video.

Step 4:

On tab 4K Video Downloader, click the "Paste Link" button on the upper left corner to paste the URL you've copied.

Step 5

: Choose the quality of the downloaded video, then click "Download". You should select the highest quality available to have the best karaoke video. 

Step 6

: Wait until the software finishes downloading your video. The downloading process may take some seconds to minutes depending on your internet connection speed.
Pros and cons
Pros:

YouTube is easy to access with simple devices. Besides, the number of karaoke songs on YouTube is large and diverse in genres. 

Cons

: When singing online, sometimes advertisements can interrupt your videos. Downloading videos to sing offline can remove the advertisements. However, you need to install downloader software.  Moreover, the quality of karaoke videos on YouTube is not very good. 
#2. Install Free Karaoke Apps
Another way to get free karaoke tracks is to install karaoke apps. You can find many free karaoke apps on Google Play Store or App Store. After installing these apps, you can connect your device with the karaoke machine to sing. 
Some popular free karaoke apps 
There are over one million karaoke songs in this app with many genres. You can sing from your favorite classic 80s songs to the current trending music. Karaoke by Yokee also allows you to record your performance and share it online. 
With this free karaoke app, you can connect with more than 50 million karaoke lovers all over the world. StarMaker has the duet mode allowing you to sing with others. You can also be a star by broadcasting your live performance on the app. 
KaraFun not only serves karaoke singers with its YouTube channel, but it is also available on the App Store and Google Play Store. 
With this app, you can sing everywhere and at any time, even on the move. An outstanding feature of KaraFun is the offline mode. You can still sing and record your performance when there is no internet connection. 
This app has an enormous song library with more than 1 million songs to choose from. You can perform solo or duet with any other user of The Voice. Like other karaoke apps, The Voice also has audio effects for editing your recordings. 
As its name suggests, this karaoke app will help you make a karaoke party at home. With Houseparty, you and your friends can sing along while video-calling each other. This app is ideal for maintaining the connection with friends and entertaining when you can't go out for gatherings.
Pros and cons 
Pros

: Karaoke apps are very convenient for users of Apple and Android devices. With most apps, you can sing and record your performance for later use. Besides, the karaoke songs on these apps are high-quality ones. 

Cons:

You can't use some special features with the free version of some apps. Also, some apps have advertisements that can bother your singing experience.
#3. Take Advantage of Free Karaoke Software
Besides free karaoke apps, you can use free karaoke software to get karaoke songs without spending a dime. You can download and install the software on your PC or laptop to sing with all your heart.
Some free karaoke software you should try
Both Mac and Windows users can use this free karaoke software. With nearly 30,000 free karaoke songs, you can freely show off your voice with KaraFun. This software also provides an offline sync option. So, you can enjoy karaoke without any internet connection. 
This software is one of the best free karaoke software with many features. PC DJ Karaoki is simple to use and has thousands of karaoke songs as well. With this software, you can create a karaoke party right at your home. 
With the free version of Kanto Karaoke, you can add up to 5 songs to your karaoke playlist. This software allows you to play all available multimedia and video formats, including MP3, MIDI, KAR, MP3+CDG, AVI, or WMV. Moreover, there are many effects you can try during singing. 
Another choice for free karaoke software on both Mac and Windows platforms is Aria. With a simple-to-use interface, you can create your karaoke plan with no effort. You can benefit from many features of Aria, such as secondary full-screen lyrics output or background music player.
Pros and cons
Pros

: Karaoke software will come with high-quality karaoke songs, so you will have the best sound experience. In addition, there are no annoying advertisements if you use this software. 

Cons

: There is not much free software for you to choose from. Also, the downloading and installing process of karaoke software is quite time-consuming.
#4. Make The Karaoke Version for Songs by Yourself
Making karaoke tracks by yourself is also a way to get karaoke songs for free. You can try this method with the support of some video and audio editing software. 
How to make karaoke tracks by yourself
You can follow the steps below to make your tracks.
Step 1: Download and install Audacity
Step 2

: Use Audacity to remove the vocals from a track you choose to get the instrumental version. 

Step 3

: Find a video creator website like Animaker and follow the instructions to make a lyric video.

Step 4

: Merge the audio with the lyric video and adjust the timing so that the lyric matches the music.

Step 5

: Save the track you've created
Pros and cons of making the karaoke version for songs by yourself
Pros:

By using this method, you can create the karaoke version of any song you like. Furthermore, you can make the track with the highest quality of audio and video. 

Cons

: It will take you quite a lot of time and effort to make a track. Besides, you will need some technical knowledge to do this method.
Final Words
With this article, you may have found the answer to the question "How can I get karaoke songs for free?". You can consult the methods above to access free karaoke tracks. We hope that you can have free karaoke songs as you desired.
Thank you for reading!