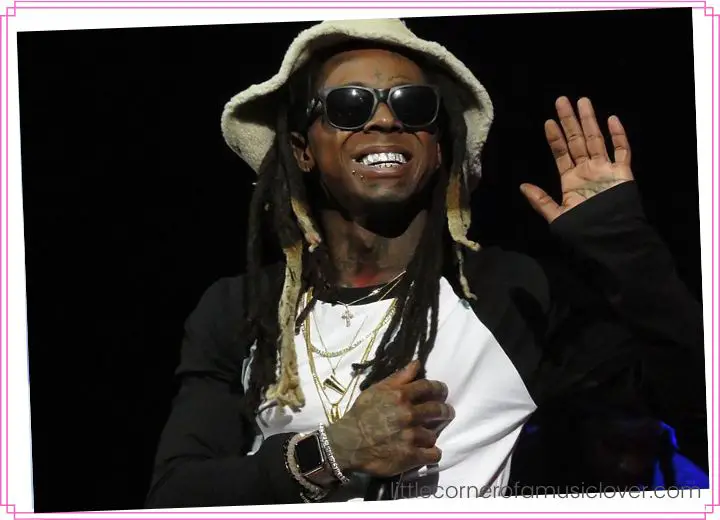 Fall in love with Lil Wayne's romantic side with this collection of his best love songs. From heartfelt lyrics to smooth melodies, these tracks will surely make your heart melt.
Lil Wayne is one of the most recognizable names in hip-hop, and his career has spanned over two decades.
His rap style and iconic flow have earned him critical acclaim, countless awards, and a dedicated fan base worldwide.
But Lil Wayne isn't just an acclaimed rapper. He's also produced some fantastic love songs over the years.
From heartfelt ballads to summertime jams, here are some of our favorite Lil Wayne love songs. So sit back, relax, and enjoy these timeless classics!
1. Receipt
"Receipt" by Lil Wayne is one of the best love songs from his 2005 album Tha Carter II.
It nicely samples "Lay-Away" by The Isley Brothers and perfectly captures the unforgettable flow of Lil Wayne.
This powerful track talks about loving someone who doesn't recognize how much you care. It's a fantastic song that speaks to anyone who's ever been in love and had it unrequited.
2. Perfect Strangers
Perfect Strangers is a beautiful love song by Lil Wayne featuring Jhene Aiko, perfect for any romantic occasion.
The lyrics describe the passionate bond between two people who agree to build a strong relationship despite their differences and unknown pasts.
In the chorus, Lil Wayne speaks of a vow to remain faithful no matter what life throws at them: "If I'm your stranger (stranger) / Then you be my perfect stranger (a perfect stranger)."
The upbeat song, with its lighthearted melody and warm guitar riffs, creates an atmosphere of intimacy that perfectly captures the track's emotion.
Perfect Strangers will become a classic in Lil Wayne's discography and be remembered as one of his best love songs ever.
3. Something You Forgot
"Something You Forgot" by Lil Wayne is a heartfelt love song that speaks to the heart of anyone who has ever dealt with a broken relationship.
The track speaks of how pain from a past love can linger even after things have ended and evoke strong emotions.
Wayne's smooth yet powerful vocal delivery adds to the emotional power of this song as he laments over what could have been and urges his loved ones to remember the feelings they once shared.
4. How to Love
"How to Love" by Lil Wayne is a romantic, heartfelt, and emotionally charged song about finding the perfect person and loving them with all your heart.
The lyrics to this song demonstrate Lil Wayne's ability to craft meaningful, poetic words about his feelings and capture the listener's attention.
The song talks about how much he loves her and explains how he would never give up on her no matter what.
With its upbeat chorus, "And if you ever wonder how true love should be true/ I show you with my actions/ How to love me full," "How To Love" highlights the importance and beauty of unconditional love.
5. Let's Talk it Over
"Let's Talk It Over" by Lil Wayne is a soulful love song that captures the beautiful nuances of modern romance.
Wayne's smooth, signature flow weaves together heartfelt lyrics with a mellow trap beat.
In the song, Wayne expresses his emotions transparently by talking about wanting to take his relationship to the next level and make things official.
He also drops some advice for anyone struggling in their relationship, don't be afraid to talk through it openly and authentically.
6. What He Does
"What He Does" by Lil Wayne is a classic love song with an infectious beat and smooth melody.
The song highlights Wayne's appreciation for someone special in his life: "Love me for what he does/ Treat him like he's special to me/ And I do the same for him."
The chorus has an inspirational hook as Wayne sings about embracing every moment together and cherishing their relationship: "Baby, don't be scared to take a chance/ Life is too short so let it dance".
7. Back 2 You
"Back 2 You" by Lil Wayne is one of my favorite songs. It's a song about reflection, hope, and strength in adversity.
The song starts with a mellow, soulful beat that creates an atmosphere of longing and contemplation before Lil Wayne's signature flow brings the track alive.
He speaks poetically about his struggles and how he will keep pushing forward despite the odds.
8. How Can Something
"How Can Something" by Lil Wayne is a love song. From the opening beat, you know this track will be unique.
The song provides an emotional story of two lovers who go through life together, no matter what life throws their way.
Lyrics capture those perfect moments in relationships that are hard to express: the joys of finding true love and simply having someone by your side.
9. Mrs. Officer
Lil Wayne's song "Mrs. Officer" is an anthem of love and admiration for strong, confident women everywhere.
The song speaks to the beauty of a woman who stands up for herself, knows her worth, and has the strength to take control in any situation.
Lyrics appreciate such admirable traits with lines like "I see you walkin' that one way/ To let me know it's on today."
The song captures the duality of this empowering personality with verses like "She can bring war, or she can bring peace," and he draws attention to the complexity of such a strong woman as she moves through life, balancing her power with vulnerability and grace.
10. Promise
Lil Wayne's classic hit "Promise" is a masterful love song. The lyrics are beautifully written, as Lil Wayne wonderfully conveys the deep emotions associated with wanting to promise everlasting love to someone special.
He speaks openly about his vulnerability and the hope that this special someone will accept him for who he is.
His soft and gentle vocal delivery perfectly encapsulates the airy and dream-like feeling of being in love while simultaneously hinting at some internal unresolved conflict he must face to move forward.
11. Love Me
"Love Me" by Lil Wayne is an infectious track that elicits a sense of joy and appreciation for love.
The smooth tones of the melody, combined with Lil Wayne's witty lyrics, create a euphoric atmosphere.
Whether listening to it while hanging out with friends, driving in the car, or simply relaxing, this song makes one feel incredibly content.
With its laid-back energy and cheerful disposition, "Love Me" provides a perfect backdrop for reminiscing about your favorite memories with your significant other.
Lil Wayne conveys a powerful message, no matter what happens, life should always be cherished through love and appreciation.
12. Lisa Marie
"Lisa Marie" by Lil Wayne is one of my favorite love songs. It talks about loving someone so passionately that it almost feels like an obsession.
Lil Wayne creates an atmosphere of deep emotion and longing using gentle acoustic guitars and melodic strings.
His words capture the intensity of love, from declaring his loyalty to professing his admiration for her beauty.
The song will have you feeling nostalgic, romantic, and content all at once, making it hard not to fall in love with its ethereal vibe.
13. What About Me
The song What About Me by Lil Wayne is a classic love song that speaks to the importance of connection and love in relationships.
The song starts with Lil Wayne singing, "What about me? What about what I need?" His lyrics speak from someone who feels they are not seen or noticed enough in a relationship.
He talks about being emotionally neglected and asks his partner to see and appreciate him more. The production and soundscape are modern and upbeat, with an electronic beat in the background to give it a contemporary feel.
The overall message of this song is one of open communication and actively expressing your needs.
14. Grown Man
"Grown Man" by Lil Wayne is an iconic love song that will always be a classic.
The chorus speaks of being a grown man who has experienced many highs and lows yet still wants to share his heart with the one he loves.
The smooth melodies and honest lyrics perfectly reflect the emotions of commitment, loyalty, and dedication a mature adult can bring to a passionate relationship.
The beat is slow and captivating, while Wayne's signature rhythm gives it just enough bounce to keep you listening.
15. Start A Fire
"Start A Fire" by Lil Wayne is one of my favorite songs. It features Christina Milian and is a fantastic combination of rap, R&B, and pop sounds.
The song discusses starting a passionate relationship between two lovers to heat their cold hearts.
In the chorus, Christina sings, "Set me on fire. Let's start a flame." This line perfectly encapsulates what the song is about, igniting emotion between two people.
The lyrics are clever and thoughtful and speak to our deep yearning for companionship or desire from someone special.
16. Single
"Single" by Lil Wayne is one of my favorite love songs. It's a great reminder to take time and trust your heart.
The catchy tune is perfect for those moments when you need to remember that self-love is essential, and feelings can change over time.
The lyrics capture the tenderness and vulnerability of life with nuanced strains of hope and determination.
17. Hot Revolver
"Hot Revolver" by Lil Wayne is one of my favorite love songs. The song talks about a passionate romance between two lovers and how they will do whatever it takes to stay together.
The soulful beat and emotional lyrics vividly depict the couple's unconditional devotion to each other.
The melody line has a soothing rhythm that makes it easy to get lost in their story.
Listening to this song always reminds me of the importance of cherishing the people we love while putting our relationship first occasionally.
18. My Darling
"My Darling" by Lil Wayne is a beautiful love song about the depth of feelings he has for a special someone.
With its pulsing emotion, tender lyrics, and soulful melody, it's no wonder this track is one of his most famous.
It speaks to the deep emotions of sharing love with another person and how hard it can be to part ways and be apart from them.
The sweet braids of the acoustic guitar combine perfectly with Lil Wayne's sensual singing voice to create an unforgettable track about the power of love.
19. On Fire
"On Fire" by Lil Wayne is an infectious love song that captures the spirit of young love. With a catchy chorus and upbeat beat, this bop has been making us move since it first came out.
The upbeat energy in the lyrics gives off a carefree vibe that is perfect for dancing with your significant other.
20. Every Girl
"Every Girl" by Lil Wayne is my all-time favorite love song. It's a smooth but powerful track that speaks to the heart.
The lyrics are full of emotion and capture the feeling of wanting someone special in your life.
The chorus is incredibly catchy and memorable, with Wayne rapping about dreaming of a perfect woman who will "be his only one."
The beat is also impressive, providing a solid foundation for Wayne's passionate words.
21. Lil Wayne – She Will ft. Drake
"She Will" by Lil Wayne ft. Drake is a fantastic love song. It speaks of both artists' deep, devoted love for a woman, and they express it through powerful lyrics and beats.
The chorus is especially memorable, with Lil Wayne and Drake passionately singing, "She will never leave from beside me, no matter what."
The track has a gentle R&B melody that builds into a club-ready beat as the two singers showcase their unique vocal styles to portray the story of their undying love for this special someone in their life.
22. Hoes
"Hoes" by Lil Wayne is a classic love song in which he sheds light on the struggles of love, heartache, and commitment.
The track opens with an infectious beat that sets the tone for the rest of the song.
The lyrics are honest and vulnerable as he conveys his fear of being taken advantage of by someone he is close to.
His lyrics are packed with emotion as he sings about falling too deep in love and how it can manifest into toxic relationships.
23. I'll Die For You
"I'll Die For You" by Lil Wayne is a beautiful love song full of emotion. It speaks of the depths of true love and how willing one is to do anything for the object of their affection.
The lyrics are heartfelt and passionate, expressing an unconditional love that no other force can break.
The beat builds perfectly with the words, creating a captivating soundscape that listeners can connect with.
This song is perfect for any couple as it shows how much they mean to each other.
FAQs
What is Lil Wayne's number 1 song?
Lil Wayne's number one song is "Lollipop," released in 2008. The song is an R&B and rap collaboration between Lil Wayne and Static Major.
This track was the lead single from his highly successful album, Tha Carter III.
The song was one of the most widely popular releases of 2008 and eventually peaked at the #1 spot on the Billboard Hot 100, making it Lil Wayne's first-ever solo chart-topping single.
Furthermore, it won a Grammy Award for Best Rap Song and even made Rolling Stone Magazine's list of 500 Greatest Songs of All Time.
After its release, "Lollipop" quickly became a hit worldwide with millions of radio plays and downloads.
Did Eminem make a song with Lil Wayne?
Yes, Eminem and Lil Wayne released a collaborative song 2018 titled "No Love."
The track was initially intended to be on Lil Wayne's Rebirth album, but it did not make the final cut due to label issues.
However, fans could still enjoy an official version of the song when it dropped as a single.
What genre is "Love Me" by Lil Wayne?
"Love Me" by Lil Wayne is a hip-hop/rap song. It features a minimalist instrumental and a smooth, melodic vocal style from Lil Wayne, making it the perfect anthem for fan love.
With elements of trap, dancehall, and reggae present, this song fits the hip-hop genre.
The lyrics have an upbeat vibe and talk about how if someone loves him, he'll love them back ten times more, making it a powerful message of acceptance.
Who has more hits between Lil Wayne and Eminem?
The debate over who has had more hits between Lil Wayne and Eminem is interesting.
Both artists have had incredible career success, having multi-platinum albums and singles throughout their discographies.
Eminem has 46 Billboard Hot 100 entries, including 8 number-one hits and 13 top 10s.
Lil Wayne has 54 entries on the chart, with 11 number-ones and 14 top 10s.
Regarding overall success on the chart, Lil Wayne edges out Eminem by 8 singles.
Nevertheless, credit must be given to both music icons for their outstanding accomplishments in hip-hop history.
What type of rap is Lil Wayne?
Lil Wayne is an American hip-hop artist known for his unique style and flow.
His music is typically categorized as Southern Hip Hop or Trap Rap due to its Atlanta sound and that of Cash Money Records producers Mannie Fresh and DJ Khaled.
Who is more popular Drake or Lil Wayne?
Drake and Lil Wayne are two of the most popular Hip Hop artists in recent years.
Drake is known for his catchy hooks and well-crafted beats, while Lil Wayne has a range of songs that contain unique flow and lyricism.
Both have achieved chart success and gained legions of dedicated fans over the years.
It's difficult to say which artist is more popular as opinions vary from person to person.
Drake has had more mainstream success, but Lil Wayne's cult following often casts him in a more favorable light among dedicated hip-hop fans.
Why is Lil Wayne so popular?
Lil Wayne has been one of the biggest names in hip-hop for years. He's sold millions of albums worldwide, won several Grammys, and amassed a huge fanbase.
His popularity is due to his consistent, high-quality music, clever yet straightforward lyricism, and effortless flow.
He can rap fast and slow over different beats, making him a versatile artist whose songs appeal to many genres.
Additionally, Lil Wayne's electrifying personality shines through his lyrics, giving listeners something relatable they can latch onto.
Conclusion
Overall, Lil Wayne has produced a great collection of love songs that have been favorites for many hip-hop and pop music fans.
From his early work to his recent releases, there's no shortage of classic love songs from Lil Wayne.
So if you ever need a good love song with clever lyrics and catchy beats, don't forget to check out some of the best Lil Wayne love songs from all time!